---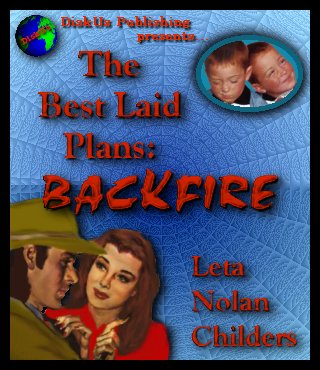 Download: $4.50
They're backkkkkkkkkkk...and this time, Jane and Hunter are bringing with them twin trouble-makers!
Of course, that spells bad news for their friends, Jake and Crimson, the twins' godparents.
Listening to Jane bemoan that her "happily ever after" life with Hunter is boring, Crimson suggests that perhaps Jane and Hunter can rekindle a bit of spark by taking a world cruise--after all, they didn't even manage a honeymoon before the twins arrived. Crimson, bored herself and on the rebound, is looking for something to occupy her summer. What better way than to spend time with her two favorite kids?
Jake, however, is worried that flighty and absent-minded Crimson might just end up losing the twins in the wilds of the Adirondack Mountains. Then, there's Uncle Horace--and this woman he's pursuing who's decided to establish squatter's rights on the estate in her attempt to "get back to nature." Doesn't Uncle Horace realize romance is nothing but a scam to lure unwary males into a trap?
Bedlam returns to the mountains...and only the best laid plans can save both the twins and Uncle Horace.

---

The Best Laid Plans: Backfire qualifies as a "can't put it down" book. This is the kind of book you escape to when your world has gone awry. Surprise and humor at every turn of the page will surely put the smile right back on your face, while the author imperceptibly slips you her wisdom about relationships. In my opinion Leta Nolan Childers has out-done herself by making this sequel even better than her much acclaimed The Best Laid Plans. Eva Kende http://www.telusplanet.net/public/ekende
~~*~~
"The Best Laid Plans: Backfire" is a wonderful, heart-warming comedy/romance. From the beginning to the end it is a nearly constant smile, interspersed with bursts of laughter. I found that after reading it, I went back to the beginning to read it again and laugh again. Not merely a "keeper," this one is a true treasure.- Jim Farris, author of "Pandora's Box"
~~*~~
Enter the world of love, humor, romance and you enter a world created by Leta Nolan Childers. "The Best Laid Plans: Backfire" will keep you entertained and spellbound from start to finish. I couldn't stop reading until I reached 'The End'. For me, it is a sure sign that a book is more than just 'another book' when I reach the end and there's a smile on my face...and when I can't wait to read it again. "Backfire" is the kind of book that will allure readers to read it over and over. Glenda D. Tudor: Author of Colorado Spitfire.
~~*~~
"Underlying Leta Nolan Childer's infectious smart-mouthed humor is a truth and honesty that reaches out and grabs you by the heart. THE BEST LAID PLANS: BACKFIRE! is outrageous, real, and seriously funny!" Dee Lloyd - author of TIES THAT BLIND and MINE- http://www.ltdbooks.com and IN THE RUNNING - http://www.awe-struck.net
~~*~~
The Best Laid Plans" Backfire! by Leta Nolan Childers is a warm, laugh-out-loud romp through love - the spark of first falling in love with Crimson and Jake; the need for a spark after 7 years and 2 kids with Jane & Hunter; the warm glow of mature love with Reginald and Scarletta; and the sudden flare of finding love when it's unexpected with Horace and Fiona.
You'll thoroughly enjoy the antics and escapades of these four couples as they find true and lasting love - and a few laughs to keep their hearts happy. Recommended reading. Libby McKinmer, author of Betrayed by Love, rated 4 Stars by Affaire de Coeur.
~~*~~
A reader can expect nothing but the best from Leta Nolan Childers and they won't be disappointed. The Best Laid Plans Backfire is a sensational story. Three romances are wrapped up in this hilariously provocative story that will keep you either gripping your sides in laughter or quickly going to the next page dying to know what's going to happen next. Purchase The Best Laid Plans Backfire and if you don't have the first one, The Best Laid Plans, I highly suggest it, too. Kimberly Roberts http://kimgaona.com
~~*~~
Leta Nolan Childers has written a superb sequel to Best Laid Plans. We fell in love with Jane and Hunter and they are back and not just in a cameo appearance, like so many sequels. Reading the first few scenes I thought perhaps the author had been spying on my laid back marriage and wondered how she would ever get Jane and Hunter out of their rut. It didn't take long to discover Jane using her romantic mind to find a way to add fire to their marriage-Africa.
The story of Jane and Hunter wasn't enough for this author. She gave us a bonus in this book, the love stories of Jake and Crimson and Horace and Fee. Toss in a set of twin boys to disrupt life and the story zings. Well done and bravo! The pace of this book is quick, it's funny and you won't want it to end. ~~Diana Lesire Brandmeyer, A Time to Dance, www.eclectics.com/dianabrandmeyer
~~*~~
Sequel to THE BEST LAID PLANS, Childers has created a romantic comedy like no other. Back again, Jane and Hunter are having marriage problems. Both seemingly worried about their marriage yet they refuse to bring it up to the other. Rather they go to drastic lengths to reclaim the magic. So what's a girl to do? Drastic circumstances calls for drastic measures so Jane holds herself ransom in Africa. Crimson, the twins' godmother, watches their boys at the cabin as Hunter grabs the next flight to Africa ... and his wife.
Meanwhile, Crimson is having problems of her own. She didn't realize what a handful the boys were until she was solely responsible for them. To top it off, the man she hated most had taken up residence demanding she share responsibility for the twins since he is the godfather. Is it possible for two people who literally hate each other to find love?
Jake Greenacre has problems of his own. His nemesis and the two twin terrors are now on the estate he helps care for and his uncle has gone off the deep end. While Jake's uncle, Horace, finds his true love on a ridge, Jake and Crimson begin feeling differently toward each other. Meanwhile on the other side of the world, Jane and Hunter are on a safari destined for mishaps. And don't forget the twin terrors as they set out to find Mom and Dad once they believe the adults around them no longer care.
THE BEST LAID PLANS: BACKFIRE has three stories in one. Childers easily moves the reader from one scene to another giving an easy and enjoyable read. As a sequel, it does help to have read THE BEST LAID PLANS to understand a few references made yet this is a stand alone book and is very difficult to put down even after reaching THE END. --Brenda Ramsbacher http://www.justviews.com

© DiskUs Publishing