---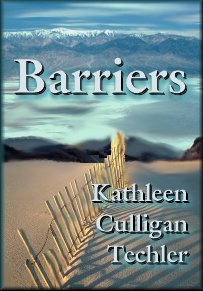 Download: $4.50
On one of Florida's barrier islands, where physical therapist Marya Pierson and her sister Penelope have just inherited their parents' condominium, Marya is determined to honor her father's final requests. He had asked her to find and destroy a mysterious something he believed would devastate Penelope, and he wanted Marya to make sure Penelope's new fiance wasn't merely after her money.
Marya finds Drew, Penelope's fiance, annoying but disturbingly attractive. But she must see him often, since she makes home care visits to his uncle Walter, a stroke victim. Penelope, a quirky, impulsive New York model, visits the island sporadically.
When self-sufficient Marya discovers the mysterious secret, she is forced to ask Drew's help in keeping the information from Penelope, even though she is still unsure of his intentions toward her sister.
Marya and Drew fight their growing attraction as one barrier after another keeps them apart.
---

---

Haunting and honest, Kathleen Culligan Techler weaves a spell that captivates her readers, drawing them into a web of human complexity, familiar but fresh. As a reader, I found myself swept along with the characters--cheering them on and commiserating their sorrows. A must read for any fan of romantic suspense. Leta Nolan Childers, best selling author, letachilders.com
~~*~~
Any romantic will certainly enjoy Kathleen Culligan Techler's romance book BARRIERS.
Marya Pierson is a physical therapist who lives on one of Florida's barrier islands. Marya and her sister, Penelope inherited their parents' condominium and Marya is set on honoring her father's final requests of making sure that Penelope's fiancé, Drew, isn't just out for her money, as well as searching for and destroying something mysterious that their father believed would ruin Penelope.
Hard as it is for Marya, because she finds Drew annoying and extremely handsome, she intends to find out. This is somewhat an easy task for her as she sees Drew often when she makes home care visits to his Uncle Walter.
Marya sees Drew more often than Penelope does because Penelope travels back and forth from New York to Florida during her busy days as a model.
When Marya discovers the unexplained secret, she needs Drew's help in keeping what she's learned from Penelope. Still unsure of whether Drew is just interested in her sister for financial reasons, she still needs his help. As the story progresses, Marya finds that she must fight her increasing draw for Drew. Does he share her feelings? Find out by getting your hands on a copy of this magnificent romance book. Reviewed by Jennifer LB Leese, ASTORYWEAVER'S Book Reviews, http://www.geocities.com/ladyjiraff/aswbr.html
~~***~~
BARRIERS is a charming story located in a romantic setting. Kathleen Culligan Techler does a great job of creating conflict and tension with Marya's attraction to Drew and her nagging suspicions of him concerning the property and money she and Penelope inherited. The story moves along at a good pace and was never boring...Readers will find BARRIERS an enjoyable romantic suspense. ~~thewordonromance.com

© DiskUs Publishing