---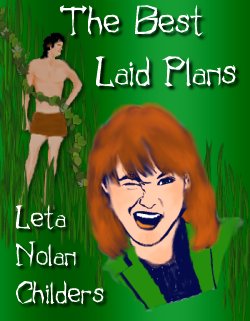 Download: $4.50
The #1 best selling book in electronic binding for 1999 and 2000!!!
Me, Jane...and you're out of your tree!
When city born-and-bred Jane Sorenson agrees to journey to a remote cabin in the Adirondacks to finish her novel, she doesn't realize that the ape-man who crashes into her cabin will also demolish her belief that romance is dead. Hunter Graham isn't actually an ape-man. He is the son of Jane's publisher, Reginald Graham, who makes a bet with his father that he can live simply in the forest-with only a loincloth, a knife and his quick wits.
Neither realizes that crafty Reginald has plans of his own for the two…a plan that, if successful, will bring the old gentleman exactly what he's dreamed about for years.
But, even the "best laid plans" can oft go awry…especially when the ape-man and the city-girl decide to turn the tables on the cleverest of schemers.

Also available in audio.

---

You'll be gripping your sides with laughter as you read The Best Laid Plans. Leta Nolan Childers has written a hilarious tale of love discovered, lost, and found again. Read The Best Laid Plans and you won't be disappointed. Reviewed by Kim Gaona ~~ http://www.kimgaona.com
~~*~~
Leta Nolan Childers proves that even The Best Laid Plans don't always work out the way we want them to. In this case, two old coots' desire for a grandson in short order. Jane and Hunter tease, bicker, and snap at each other like a couple of kids...One thing's for certain, life for Jane and her apeman will never be dull. Looking for a light-hearted read, just a bit on the silly side, give The Best Laid Plans a try. —Lisa Ramaglia Scribesworld
~~*~~
It's easy to see how The Best Laid Plans became a bestseller. This is a fast-paced, sexy, funny contemporary romance that shouldn't be missed. Highly recommended. --mm--Romantic Notions
~~*~~
"BEST LAID PLANS" is a very humorous contemporary romance that will remind readers of the 1930's zany comedies of Cary Grant. The story line pulls no punches as it successfully keeps the audience laughing even with a serious undertone to the plot. Apeman and Amaryllis are an affectionate duo, whose banter is uniquely jocular even as their personal demons interfere with their love. The support players are a dynamite bunch of matchmakers. Leta Nolan Childers show a deft touch at writing a comical romance that will leave readers exiting in good spirits." Harriet Klausner, WCRG on AOL
~~*~~
When Jane Sorenson aka romance author Amaryllis Amour moves into the secluded cabin her publisher recommends to get her over her "writer's block", she never expects to meet up with a sexy throwback from Tarzan. Neither does she expect to fall in love with him, despite his primitive appearance. Leta Nolan Childers' story proves that even the Best Laid Plans can go wrong--and so can latex. -- Tina Adams, HeartRealm Romantic Fiction Web Site