---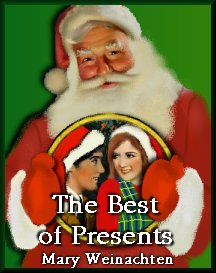 Download: $4.50
Noelle just knew that even without the snow that brought skiers to Mount Bedford her new store was going to thrive. After all, Noelle had been dreaming of this her entire life. Santa may not have ever been able to find her when she was a child--as she was forced to move from one foster home to another, but that certainly didn't stop her Christmas hoping and dreaming...nor stop her from opening a Christmas specialty shop.
Nick just knew that without snow to bring skiers that his ski lodge was going to end up closed permanently. But, isn't that just how his life had always been? His parents used to joke that if anyone looked up the definition of bad luck in the dictionary--there'd be Nick's picture. And even though they were gone...it seemed bad luck followed him, usually striking just as he was about to achieve his dreams.
The eternal optimist meets the confirmed pessimist in "The Best of Presents." Surely it's going to take all of their friend Melvin's talents to bring these two together. And poor Melvin might just have to call on some help from "The Man in Red!"


*** This one will sure put the hardest scrooge in the spirit of the season! A wonderful book of faith, magic, and love! ***Huntress' Book Reviews

© DiskUs Publishing