---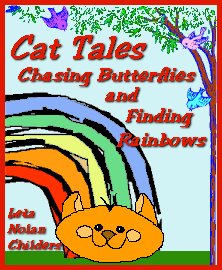 Download: $4.50
Children and grown-ups alike will love the interactive antics of Baby, Buddy and Bug…three cats in search of fun and adventure in the Big World.
In this episode, the trio is enjoying a beautiful summer afternoon until Bug decides to explore and a thunderstorm threatens to separate the cats.
Kids can listen to the cats as well as watch their animated antics in this book.

I took a disk of your books to school and they were loaded on one of the only computers in the school with a browser. It wasn't in my daughter's classroom but her classmates have access anytime they want, so it is GREAT.
Her teacher loved them and she thinks that the children will really enjoy reading them. You should have seen the look on everyone's face in the classroom when the first kitty meowed! Suddenly I had about 45 little faces crowding around behind me to sneak a peak at the kitty!....Lisa, proud mother and classroom mom.

© DiskUs Publishing