---
Celia Collier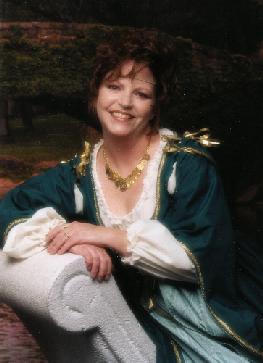 Rural Oklahoma is where Celia calls home. Single, with two grown children, her "babies" are now her two dogs; Lady (part Australian Shepard and Chow) and Seamour (a miniature Schnauzer). A Naval veteran originally from Phoenix Arizona, Celia first moved to Oklahoma during her high school years. She began writing in 1990 after reading "a really BAD book." She focuses her writing on Scotland, the true love in her life.
Read an exclusive interview with Celia Collier by clicking here.
Check out these books by Celia Collier. (A new window will open in your browser.)

Carlisle 1492. Lora O'Shea 
is in trouble. Sent to 
England to gain the
release of her worthless 
husband, Lora soon finds 
herself accused of 
witchcraft and bound to 
a stake. Daniel Sinclair 
risks his life to save 
Lora from the flames. 
Entranced by the Irish 
lass with haunting eyes, 
Daniel learns that, only 
if Lora successfully gains 
her husband's release and 
returns him to Ireland, 
will she regain custody 
of her daughter. Daniel 
longs to banish the misery 
in Lora's life and shower 
her with kindness.

Treachery, deceit, the 
threat of rebellion and 
a daring plan stir the
lives of all involved. 
Daniel and Lora thwart 
the fearsome Raven in 
his scheme to pitch 
England into turmoil. 
There, on the windswept 
cliffs of Ireland, Daniel 
and Lora discover a love 
that captures the soul; 
a love borne from
Highland Fury.

An exclusive interview with Celia Collier.
Where do you live?
Oklahoma
Where can people write to you?
What inspires you to write?
My deep love of Scotland and my own Scottish roots are the basis for the majority of my stories. My Uncle Harvey, God rest his beautiful soul, was the one who made me aware that the name "Dunbar" was more than just a name. Through him and his devotion to the Clan, I learned so much about myself and my family. I was very lucky to actually visit the land of mist and heather; A land where the terrain and weather have never changed since its creation. Gazing at the steep mountains covered in mist, I could almost imagine a band of kilted warriors charging down the mountain to capture their prey. The history seeps into your bones and conquers your soul so you can feel their presence...just out of sight....just out of reach of reality...the one you can feel but never quite see. That was my one and only trip "across the pond" but the impact of the adventure will live in my soul forever and this love of family; love of a land worth dying for, is what I strive to create in my stories.
What's your average writer's day like?
I sit down, open a document and start typing. I plan nothing. I plot nothing. The stories and characters come to me and bug the daylights out of me until I listen to them and put their words on paper.
Tell us about your family.
Family? Well, let's put it this way; I have a husband, and two teenagers. Need I say more?
Do you have pets?
My first "love" was Lady, an Australian Shephard/Chow mix. I dislike chows so thankfully she looks more like the Australin Shephard. She is a beautiful, rust colored dog that I saved from the animal shelter. My newest addition is Seamour, a little spoiled miniature Schnauzer. I bought him for stud purposes and the breeder had already named him. Since he was the first to open his eyes, was the runt, and figured he'd be used for breeding, he would get to "see more" hiney. I liked the name, so I kept it. I also have a Cockatiel whose proper name is Pretty Boy but who probably thinks his name is "Shut-Up". (Afore mentioned husband and teenagers.) He's pretty mellow but likes to show off when we have visitors and will whistle "Pop Goes The Weasle". I'm talking the entire verse, not just the last bit here. I want to get him to do the whistle theme from the Andy Griffith show, but that hasn't happened yet.
What are your hobbies?
Gardening, Egg Crafts and other general crafts. The eggs are totally cool to make, and the shells are a lot thicker than you think. The first one I did I used an Emu egg and kept thanking God I had ordered one already cut. I did it up for my Mom for Christmas in relation to one of my books. It's really cool, and relaxing, but trying to cut those eggs...they stink!
What do you do in your leisure time?
Leisure
Who's your favorite author?
Virginia Henley
What's your favorite book?
A Knight in Shining Armor by Jude Deveraux
What's your favorite movie?
Ever After
What's your favorite place to visit?
Scotland. But since I can't afford to go there as often as I'd like, I'd chose my bedroom and laptop.
Where would you like to visit that you haven't visited yet?
Ireland
What's your favorite music?
Celtic, Classic Rock (Def Leppard!!)
Anything else you'd like to tell us?
Yeah, buy my books! My daughter is going to college and both kids need braces. <G> Seriously, I believe people who write do not chose to do so...writing chooses them. It's the voice in your head (at least I HOPE other people hear voices) that nag at you and refuse to give you a moments rest until you pay them some attention. Characters hate to be ignored. Read what you enjoy and if you write, write what you enjoy. It's a bit like doing a craft. It looks difficult until you give it a try and learn how to do it, then it's not so difficult anymore. If you never try anything in life, you will never realize your full potential.

© DiskUs Publishing