---
Charlee Boyett-Compo
Charlotte Boyett-Compo, Charlee to her friends, is the author of nineteen books, nine of which are the WindLegends Saga, soon to be released by Dark Star Publications beginning in July 2000 with The Windkeeper and followed in September by The Windseeker. Married 34 years to her high school sweetheart, Tom, she is the mother of two grown sons, Pete and Mike, and the proud grandmother of Preston Alexander and Victoria Ashley. A native of Sarasota, Florida, she grew up in Colquitt and Albany, Georgia and now lives in the Midwest.
She is a proud member of the Authors' Guild, National Writers' Union, the Writer's Club Romance Group, Romance Writers of America, Romance Foretold, EPIC (the Electronically Published Internet Connection), Women for Literature, Ardeon, E-Authors, the Phenominal Women of the Web, and the first author to be published by Twilight Times Books. She is the creator and webmaster of her homepage at http://www.windlegends.com. Recently, she won Soliloquoy's Fine Writers Online award. She is a member of Beta Sigma Phi, the HTML Writers Guild, White Rose Sisters, Ladies of the Heart, The Partners of Mary, and is the parish secretary of her local Catholic church as well as the creator and webmaster of its webpage at http://www.geocities.com/Heartland/Garden/9699. Currently, she is at work on a new anthology and has contracted with Dark Star Publications for twelve new novels. She is also doing an email serial novel, The Prince of the Wind, at http://www.onelist.com/community/C-BoyettCompo on a listserv started for her by a fan. She is a senior editor at Sharpwriter.com where she does a monthly ebook column called Charlee's Web and has been asked to write monthly for genrEZONE and two other ebook websites. She does interviews for Romance Foretold's Promo Preview and The Royal Scribe as well as for Eguild.
Her hobbies are writing, watching Canadian actor Eric McCormack do his magic, listening to Celtic music, playing the piano, guitar and organ, and collecting wicker bird baskets (she has over fifty duck, rooster, and chicken baskets). She is owned by six cats and one hall monitor Chow. In her spare time, she is taking classes in American Sign Language so she can interpret during Church services.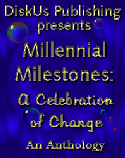 Download Add to Cart $4.50
© DiskUs Publishing