---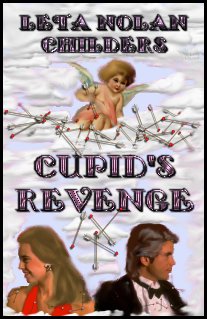 Download: $4.50
"Your head must be harder than rocks
if you think I'm ever going to be
swayed by your so-called charm..."
Shannon Cassidy has no time for Cupid-especially when all he's done is bring her grief and heartbreak. Yet, when Cupid appears in the guise of the mother of the man she most loathes, even Shannon's firm resolve can be pierced by the arrows of love.
Mick Banyon has had it with women. Even his well-meaning mother tends to aggravate and annoy him, especially when she suggests he forget the fiancée who broke his heart and left him wondering about his virility and pursue the cute, red-head across the street from his shop. Still, Mick finds pleasure in teasing Shannon and engaging verbal sparring matches that leave him more than mentally stimulated.
When Shannon and Mick both seek the presidency of the Historic Main Street Association, it's Cupid who comes out the winner.

Also available in audio!

Rival candidates for president of the Historic Main Street Association, Mick Banyon and Shannon Cassidy seem determined to destroy one another - literally. Whenever the two come together, disaster strikes. Shannon is convinced that her guardian angel is warning her away from Mick. And that's probably not a bad idea, considering the well-dressed women who disappear into his shop just before the closed sign appears in the window. The way Mick kisses her doesn't do anything to change her opinion that he's a ladies man. But he has hidden fear that she never would have suspected.
Cupid's Revenge - with its shattered mirrors, smooshed chocolates and rotten ostrich eggs (not to mention the heroine puking in the hero's lap) - has to be one of the messiest romance novels ever written. It's a fun, fast read. -- mm Romantic Notions
Revenge is said to be sweet, but not more so than the confection served up by Leta Nolan Childers in Cupid's Revenge. Shannon and Mick -- both bearing the scars of Cupid's bow gone awry -- spare their way through an often funny, sometimes poignant, always entertaining story of healing and love. Leta's created a treasure. It's a keeper!" -- (Anne Manning, author of Rustler's Bride and The Raven's Lady —Anne Manning
~~*~~
"CUPID'S REVENGE, much like GRAVEROBBERS WANTED (NO EXPERIENCE NECESSARY) is a good book. While it lacks the nerve-frying suspense of such novels as GRAVEROBBERS WANTED (NO EXPERIENCE NECESSARY), it certainly has more references to bondage equipment. No, wait, actually it has fewer, but it unquestionably has more scenes involving unfertilized turkey eggs. My guess is that fans of GRAVEROBBERS WANTED (NO EXPERIENCE NECESSARY), available now at www.wordbeams.com, will enjoy it very much." --Jeff Strand, author of GRAVEROBBERS WANTED (NO EXPERIENCE NECESSARY) and HOW TO RESCUE A DEAD PRINCESS...at www.jeffstrand.com

© DiskUs Publishing