---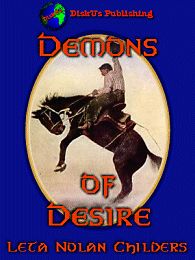 Download $4.50
Lennie Caldwell showed up at Samantha's ranch desperate, broke and on the run. Unfortunately, his arrival cost Samantha the object of her desire...a beautiful black stallion.
Samantha, fighting against her attraction to Lennie and the community's false notions, is desperate to prove to the world that she needs no one and nothing. But it's a lie she hides behind, as she secretly dreams of those things she believes are denied her.
Some prayers are answered, though. And it takes a tough angel in the form of a magnificent beast to put things right for both Samantha and Lennie...


Recommended/ Very Enjoyable Read
I kept smiling throughout this story as I rooted for the forces of good to win out in this tangled romance. It is a fun read with lots of witty dialogue. There are no surprises as to who are the good guys and who are the bad guys, but there are plenty of interesting characters in the story. The plot moves along with lots of action and romantic suspense. This is a feel good story that is definitely worth checking out. Reviewed by: Lisa Lacroix for: MSF&F (www.jopoppub.com) Copyright @ 2000 Lisa Lacroix
~~*~~
A hoot! A character! She'll make you laugh! I was forewarned that Leta Nolan Childers was unlike any other author I'd come across yet with epublishing. I wasn't quite sure what to expect, as DEMONS OF DESIRE is the first by Leta that I've read. I have to say it though; she really delivered. A thoroughly humorous tale, full of sarcasm, wit, situational humor and unexpected role reversals, DEMONS OF DESIRE took me on a laugh filled ride that I won't forget for some time to come.
Leta had me from the first sentence: "He stood frozen-his breath raggedly flaring from his nostrils in wild bursts." I was positive, just positive I had landed myself a historical romance--imagine my surprise when I discovered the "he" was a horse, his body currently inhabited by a pretentious angel! Understandably upset at having to inhabit the lowly form of a horse, and being named Demon to boot, has put this angel in the crankiest of moods. His mission? To bring together two incredibly stubborn, hotheaded people who are bound and determined to resist their physical attraction to one another, for all the wrong reasons. What is it with humans anyway? Why can't they just fall in love in under an hour and get it over with already?
With a mustang ranch to run, Samantha Reynolds was rich, sure of herself and busy enough to not be lonely. At least that is the good front she puts on for those around her. Behind locked doors at the ranch however she hides her bedroom, a study in femininity with its pink and beige satin sheets, lacey stockings and sexy high heels. Spending the day breaking wild mustangs and rounding up cattle for auction necessitates boots, spurs and jeans, but there is that part of her that still yearns to be seen for the woman she is, not just the ranch boss. Imagine then her outrage when her newest ranch-hand waltzes onto her property, spooks her finest horse, mistakes her for a man and then interrupts her shower in an attempt at an apology.
This book was great. By far the best though was the angel, sent to help these two idiotic humans figure out this thing called love. The angel has an irreverent humor, sparkling wit, and outlook on life and humanity--he simply stole the show. Leta Nolan Childers made a convert out of me, I'll be on the lookout for her other books. Highly recommended. Aimee McLeod, http://www.wordweaving.com
~~*~~
*** This one was fun, Readers! Well worth your time and MORE than worth your money! You will not want to stop reading until the last page is finished. It left me wishing it had been longer. Wonderful! *** HUNTRESS BOOK REVIEWS (Reviewed by Detra Fitch)
~~*~~
Demon of Desire by Leta Nolan Childers is a delightful read making me think about the circumstances and coincidences surrounding my own love life. Maybe they didn't happen by chance after all. Maybe there was an angel working behind the scenes just like in Demons of Desire.~~Diana Lesire Brandmeyer, author of "A Time to Dance" Awe-Struck E-books
~~*~~
A heavenly bet ensnares mere mortals in the most unique cowboy love story you'll ever have the pleasure of reading. Demons of Desire weaves a wonderful twist on an old favorite. Leta Nolan-Childers crafted another must-read to keep. ~ Elaine Hopper, author of Tigers Play Too Rough
~~*~~
This book grabs your attention and never lets go.
Have you ever heard of an Angel named "Demon"? Well, there is one and it's all Samantha's fault! If that humiliation wasn't bad enough, the woman's desire to break him was even worse.
All he had to do was get Sam and Lennie together - that was his mission, sounds easy doesn't it? Introduce two single mortals in need of a partner... and the rest is history. Or is it? Just when Demon thinks he has a handle on the situation, he discovers that his Boss has made a bet on the outcome. A bet that leaves the fate of all the Angels in the balance.
Things do not start well - Samantha nearly kills herself trying to break the beautiful, black stallion she has called 'Demon' and then some idiot yells out and spooks him. Dumping her backside first into the dust, the stallion bolts and escapes back into the wild. She could happily throttle the new arrival, and after bawling him out tells him to get the H*ll off her ranch.
Not a good beginning for romance - but the Rival's minions are already hard at work. With the interference of crooks and no-hopers, the Angel will have to work hard to get this couple together!
Mrs Childers has done a fantastic job, with a superb cast of characters, and a light-hearted poke at the afterlife. Her premise is funny, yet touching and the book was extremely well-written.
Rating = 5 stars~~Sandy Cummins, Writer's Exchange, http://www.writers-exchange.com

© DiskUs Publishing