---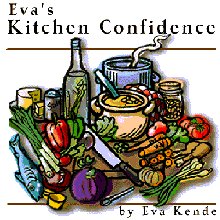 Download: $8.00
The definitive book that anyone who even nears a kitchen should possess!
Expert Chef Eva Kende tells it all. From soup to nuts, from selecting meats to picking vegetables, Ms. Kende tells us what Mother either forgot or never knew. More than just a recipe book, Eva's Kitchen Confidence instructs us on the tools we'll need, about the foods we prepare and just how to prepare them. A must for every child leaving the nest, every new bride and every cook who wondered just how do they do that!
---

Clearly presented, and written with a light and often humorous touch, 'Eva's Kitchen Confidence' is packed full of sound and helpful advice. Don't buy equipment you don't need-remember, it all has to be washed! Read the labels on food-it's surprise how many items contain hidden fats and sugars. And yet you can still eat fried food- if you learn how to cook this properly. Eva is also the only food writer I have ever come across who advises that mushrooms should be briefly washed before cooking. Others warn that the flavour will be lost if you do this, and that they should be merely wiped over with a piece of damp kitchen paper. I have never found this to be adequate unless the mushrooms were really clean, and was delighted to find that someone else besides myself rinses the often grubby little things.
There are also sections on terminology and hygiene, plus a selection of helpful recipes. Eva's book is a real pleasure to read, and one I definitely intend to buy for my own use. Margaret Beasley, SharpWriter, www.sharpwriter.com
***
Everything you ever wanted or thought you wanted to know about cooking. Starting with the basics and carrying you to prepared meals fit for a King. If you love to cook, read this story. The author includes some recipes as well. Interesting, indeed!!! HUNTRESS BOOK REVIEWS (Reviewed by Kitt)
***
Eva's Kitchen Confidence is a gourmet smorgasbord of information
Whether you're a gourmet chef or a neophyte who doesn't know one end of a meat thermometer from another, this user-friendly primer on the fine art of food preparation should have a place in your cookbook collection. Or perhaps even in place of your cookbook collection, because Eva Kende's emphasis is definitely on the art of food preparation. Cooking, she stresses throughout Eva's Kitchen Confidence, should be fun--an adventure, not a chore limited by rules, regulations and recipes.
The trick, she explains, is to know not just how ingredients go together but why. Once you've mastered that, you're free to change the colors, textures and media and create your very own culinary masterpieces. Starting with a list of the basic equipment needs, Kende goes on to discuss the science of cookery, surrounding the mechanics with words of encouragement, cheerful quotes and helpful reminders. Kende not only wants you to have fun in the kitchen, she wants you to have fun learning how to do it.
Have a wedding coming up? Tuck a copy of this book into a basket of kitchen utensils selected from the clearly described list. Know someone who just moved into their first apartment and who is living on Mickey D's and canned soup? Drop off a box of staples picked from another well-designed list and a copy of Eva's Kitchen Confidence. And don't forget a copy for yourself. --- Elisabeth Burton, Blue Iris Cafe
***
EVA'S KITCHEN CONFIDENCE a basic cookbook perfect for the novice or experienced cook, is the perfect compliment to any electronic bookshelf. With the new found interest in electronic publishing and the numbers of individuals signing on for the first time every day this reference work is a timely addition to the quality titles offered through DiskUs Publishing.
Novice cooks will no doubt appreciate the helpful advice included in part one of this volume as they plan to equip their first kitchen. Author Eva Kende invites her readers to peer into her pantry shelves and freezer in chapters covering staples, spices, frozen foods, fresh fruits and vegetable. Kende's expert advice makes stocking any kitchen a simple affair.
Novice or expert, the recipes included in EVA'S KITCHEN CONFIDENCE offer readers a variety of choices ranging from selections perfect for a simple family dinner or an elegantly appointed dinner party. -- Sandra Morgan, www.fictionforest.com
"I picked your book because of all the nice verbs. Very lively.As I said in the story, there's a ton of junk out there. Makes the jewels all the more enjoyable." Aline McKenzie, Dallas Morning News
***
The way I figure it...Eva Kende, author of Eva's Kitchen Confidence, owes me at least two cases of Slim Fast and a new T-shirt. The Slim Fast is for the numerous cyber-pounds I gained reading this cookbook...and the T-shirt...well, shall I admit to drooling far too much?
Eva's Kitchen Confidence goes way beyond the normal boundaries of other currently published cookbooks and reminds me of the classics published decades ago that really spoke to a cook about fundamental basics concerning cooking and food preparation beyond measurements and cooking temperatures. And it's all done with warmth and wit. I learned so many things reading through this book...and before I read it, I had considered myself a rather knowledgeful chef. Well, I am a much smarter, more smiling chef now...thanks to Eva's Kitchen Confidence. Two wooden spoons...way up...for this one. -Leta Nolan Childers http://scribesworld.com/reviews/ on the nonfiction page.
***
Rating: * * * * stars
This is not your typical cookbook as the introduction to this book best explains:
"Cooking is not just following recipes: To cook well and enjoy doing it, it is absolutely essential to understand the basic methods, so that you can apply them to those recipes surreptitiously torn from magazines at the doctor's office, collected from friends or contained in the glossy cookbooks on your shelf. Understanding the methods will give your cooking flair and flexibility. Thus you will eventually develop a style of your own."
As the readers are admonished to get their "nose out of the recipe and into the pot," Kende teaches cooking through the senses. The eyes looks for color and texture. The nose must be aware of odors, both for blending of ingredients and for detecting any burning. The ears listen to the food cook, where hissing tells the heat is too high. The sense of touch is needed for texture, while taste is essential to assure the flavor.
Where was this book when I was a newlywed so totally lost and insecure in the kitchen? After 27 years, I have developed the style of my own, yet I still learned new things from "Eva's Kitchen Confidence." This book belongs in every kitchen.
Inscriptions Book Reviews Nov 16, 1999. http://www.inscriptionsmagazine.com/
* * * * Outstanding book, engrossing, a classic
***
"She has designed the material for 25-35-year-olds who need an encyclopedia of ingredients and cooking methods. It's all about substitution, she says, using parsnips when you don't have carrots; teaching cooks how to be flexible and creative." Cinda Chavich, The Calgary Herald
***
As a culinary-challenged woman this book was great. Rather than assuming any prior knowledge, Eva goes right back to the most basic concepts and builds from there. I can tell you that this was a refreshing experience as most books for beginners assume you know something. For instance, very few include how to boil an egg (which I never get right).
All the instructions were informative, interesting and well written. Eva evokes images of a mother sharing her knowledge with a beloved child, rather than a condescending school teacher who thinks you should already know this stuff.
Eva, my family thanks you for this book - we will be benefiting for years to come and so will any other families who reads this extensively-researched cookery Bible!
Rating ***** Sandy Cummins, Editor/Webmaster Writers Exchange Ezine

© DiskUs Publishing