---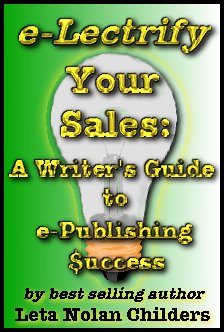 Download: $9.50
The book that tells the secrets of successful e-book sales...written by the author who set records!
Included in this lengthy, 347-page book...with thousands of helpful web site addresses and links to assist authors.


This new tome from the author of 1999's best-selling eBook, The Best Laid Plans, is an amazing resource containing nearly everything a writer needs to know to break into the eBook marketplace. Witty, upbeat, and practical, Childers gives the low-down on finding an ePublisher, negotiating a contract, advances and royalties, copyrights, formats and security, marketing and promotions, and much more. The book couldn't be more timely, since as Childers writes, "An author who really believes in their work and the possibility that there's a cadre of people out there who would enjoy what they write can succeed like no other time in history." http://www.ebooknet.com/
---
Leta Nolan Childers is one of the old hands at e-publishing -- two of her novels, Best Laid Plans and Best Laid Plans -- Backfire! combined have sold in the tens of thousands and her advice on e-publishing pops up just about everywhere you look on authors' Web sites. She obviously is doing something right. This book shows how…Childers' book fills the vacuum with charm and tons of practical advice…you'll find a truckload of information, from an introduction to e-publishing, to copyright, submitting manuscripts, and promoting your book once it's published -- with loads of stuff in between. She shines in the area of book promotion. This is an especially difficult field, as the Old Guard of literature still regards e-publishing with suspicion, and e-published books are often seen as inferior to printed ones. Nolan Childers tackles the subject head-on by practicing what she preaches…And in telling war stories and dishing out advice, the author speaks not like some great sage but like a pal who's come over to help you build a patio or something. She is direct, friendly, and to the point. She illustrates her points with great stories, too…All in all, it's a fine book. I heartily recommend it.-William Amos, knowbetter.com
---
Stars: 5

In e-Lectrify Your Sales: A Writer's Guide to e-Publishing $uccess, Leta Nolan Childers provides a wealth of information in her inimitable and entertaining style. As the author of The Best Laid Plans, the number one best-selling e-book for 1999, she is well established in the vanguard of this evolving industry. Her accomplishments have garnered international interest and eight of her books were recently nominated for the prestigious Frankfurt award.

Nolan Childers takes you by the hand and guides you through the murky waters of e-publishing. She gives detailed info on selecting an e-publisher, the submission process, copyright and contracts, how to write press releases and where to send them, where to obtain book reviews, obtaining and preparing for interviews, info on author web sites, fifty ways to promote your book and more.

Her list of major daily newspapers, weekly newspapers, business papers and alternative newspapers along with their web sites alone is worth the price of the book. Not to mention the lists of radio and television stations for Canada, the United Kingdom, Australia, New Zealand and Ireland.

If you are a writer who is thinking about approaching an e-publisher, you must read this book first. If you have friends or relatives who arestruggling writers, buy this book and give it to them. You could dramatically change their lives. Reviewed by Lida E. Quillen, Publisher of Twilight Times Books
---
"Not only is Leta Nolan Childers an extraordinarily talented writer, she's also one of the most knowledgeable and savvy individuals in the e-book industry. Leta's awe-inspiring success as an e-author didn't happen by accident, it was achieved through her hard work and tireless efforts. A dynamo when it comes to self-promotion, Leta has clearly demonstrated the fact that dedication to self-promotion can make the difference between a book selling well and that same book being a bestseller.
"I tell all of my newly contracted authors that if they're serious about being successful e-authors, look to Leta Nolan Childers because she wrote the book. And now she has--literally. This book was so full of fascinating facts, solid tips, and creative ideas that I stayed up until four in the morning to read it straight through. There are several fine books about e-publishing on the market today, but nothing even comes close to this wealth of experienced insider's secrets and understanding of the industry. e-Lectrify Your Sales: A Writer's Guide to e-Publishing Success is a must-read for any e-author determined to succeed." Susan Bodendorfer, Publisher, Wordbeams, www.wordbeams.com
---
"...captivating from the beginning page. Her humor and wit will engender a proud feeling to be an e-author. Chapter after chapter is filled with powerful information all the new author has to do is to apply it. I plan to use a few hundred of Childer's ideas myself. Thank so much for writing a fun, easy to read how to book." Diana Lesire Brandmeyer, author of "A Time to Dance." http://www.eclectics.com/dianabrandmeyer
---
e-lectrify Your Sales: The Writer's Guide to e-Publishing by Leta Nolan Childers, a non-fiction reference guide, published by DiskUs Publishing (http://www.diskuspublishing.com/) is much more than just a guide. This book is a keeper.
My favorite quote from this book is: "And those who are unable to show enough flexibility to meet the challenges of the future are soon going to be left in the past." In her tome, Leta firmly holds your hand as you enter the portals of this unfamiliar future.
e-lectrify Your Sales is candid, informative, well organized, has lots of detail to help one through the new concepts, step-by-step. It's a recipe book for any publishing success, but slanted to cover the revolutionary new form of publishing books in electronic formats. Leta Nolan Childers makes understanding the intricacies of epublishing a breeze. She makes even the dry and convoluted subject of contracts interesting and understandable.
The fifteen chapters take the reader from choosing a publisher to understanding contracts and great inexpensive ideas on promotion. Tips and advice are delivered in a warm, friendly and often humorous way instilling confidence in the reader to try yet another unexplored road. Hundreds of live links to places and resources mentioned supplement the text, so that the reader can follow the tip and carry it out immediately.
There is so much information in this book that it's impossible to absorb it all in one reading, but the layout is clear and well indexed so that one can return (and I definitely will) to reread the pertinent advice as problems arise in one's daily struggle in this fledgling industry. This work demonstrates the great advantage epublishing has over conventional paper. The ease of getting back to a given subject, the live links and the detailed index are a boon to the user. This book will be the companion of many authors, used again and again, yet it will never get frayed or fall apart.
e-lectrify Your Sales is like having a friend on hand to discuss the pros and cons of the next step to take in your own publishing career. Eva Kende, author of Eva's Kitchen Confidence, www.diskuspublishing.com

© DiskUs Publishing