---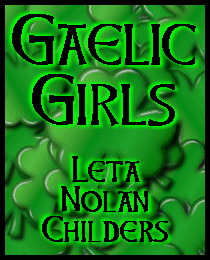 Download: $4.50
Sean Clancy Shaunessy believed he was thrice cursed when his wife delivered three beautiful baby daughters and then promptly died. Sean knew for a fact that as he guiltily watched over the body of his beloved, but much put upon, Maeve, the fairies absconded with his three precious and sweet-natured babies and left three willful, stubborn, spritely fairy babies in their place. They couldn't be his daughters! Of course, they resembled him with their flashing emerald eyes and thick, dark hair, but that's where the similarities ended. Now, after all these years of coddling and spoiling them, it seem that each is determined to become an old maid, intent on keeping him from pursuing his passion--ale at the local tavern in the company of bar maid Seraphina. Well, enough is enough and Sean is determined to find husbands for Treasa, Fiona and Bridget.
As if any of the three had any time for men. The girls set out to prove that they are more than any man could handle. And, if their father doesn't forget this nonsense, they'll teach him a lesson he'll never forget...as well as the men--Aidan, Cian and Declan--he drags home.


What's better than a matchmaking cupid? A father of triplets who wants to find just the right husband for each of his girls.
This is the story of Treasa, Fiona and Bridget. The three beautiful daughters of Sean Clancy Shaunessy. Never have three triplets been so different in their personalities. All three of them are bent on taking care of their father in his old age instead of making a life for themselves, but their father has other plans as he brings Aidan, Cian and Declan, three eligible bachelors home for them.
This book is a treat as it gives you the chance to read four love stories. Three with the triplets and a surprise arrow from cupid right into the heart of Sean Shaunessy himself. My hat is off to Ms. Childers as she has spun a tale that touches your heart and makes you wonder if fairies really do exist.
Romance Reviews by Chris ~~ Reviewed by Chris Bellar
~~~
Leta Nolan Childers is a master at storytelling. From the heart wrenching beginning of the story to the nail biting ending, you'll travel a gauntlet of emotions as you travel chapter by chapter through the lives of the Shaunessy triplets on their way to love everlasting. Holly Janey - Book, Music, and Video reviews.

© DiskUs Publishing
.