---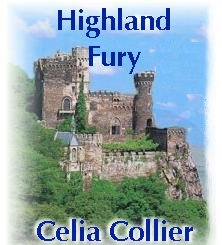 Carlisle 1492. Lora O'Shea is in trouble. Sent to England to gain the release of her worthless husband, Lora soon finds herself accused of witchcraft and bound to a stake.
Daniel Sinclair risks his life to save Lora from the flames. Entranced by the Irish lass with haunting eyes, Daniel learns that, only if Lora successfully gains her husband's release and returns him to Ireland, will she regain custody of her daughter. Daniel longs to banish the misery in Lora's life and shower her with kindness.
Treachery, deceit, the threat of rebellion and a daring plan stir the lives of all involved. Daniel and Lora thwart the fearsome Raven in his scheme to pitch England into turmoil. There, on the windswept cliffs of Ireland, Daniel and Lora discover a love that captures the soul; a love borne from Highland Fury.

---

Celia Collier has once again captivated readers with her fascinating romantic historical. "Highland Fury" shows the valiant strength of the Scottish people and the loving devotion they hold dear till death. Highlander Daniel Sinclair literally sweeps Lora O'Shea off her feet and carries her away to safety. If you're looking for a historical romance then "Highland Fury" is a must. However, make sure you have plenty of time to read, because you won't want to put it down. Kim's Reviews~~Reviewed by Kim Gaona http://kimgaona.com
~~*~~
Reader beware! From the moment you read of Lora being dragged to the stake, you will find yourself caught up in a riveting tale of romance and intrigue. The twists and turns will keep you turning each page to discover whether evil triumphs over good and hatred over love. ~ Ivy Quill Reviews http://www.ivyquill.com

© DiskUs Publishing