---
Julia Ann Charpentier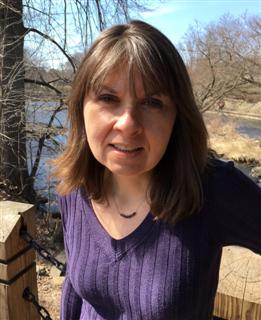 JULIA ANN CHARPENTIER is a freelance writer, a fiction editor, and a book critic. She holds a Master of Arts in the Humanities from California State University, where she studied creative writing and literature. Jack London: An American Writer (1876-1916) is her eighth release from DiskUs Publishing.
Julia Ann Charpentier
Writer and Editor
Website: www.juliacharpentier.com
E-mail: juliacharpentier@aol.com
Summer Solstice

Julia Ann Charpentier

-------------------------

This eclectic collection of thirty short stories offers the reader glimpses into the paranormal and the unknown workings of the human mind in love. From preordained relationships to hauntings and self-discoveries, every selection portrays a woman at a critical moment or turning point in her life. These windows to hidden realms within the psyche delve into the past, the present, and the future, illustrating the emotional power of romance as it influences and motivates. To be taken in bits and pieces…but not to be taken lightly.

REVIEWS

SUMMER SOLSTICE is an intriguing collection of short stories, designed to make the reader feel a magnitude of emotions, in a short period of time. It worked. Ms. Charpentier is gifted! She is able to draw a reader in within the first few lines of the story. And what's more, she can keep them reading. -Tracy Atencio, NovelSpot-

~*~

The author uses excellent descriptive language and immediately draws the reader into each scene. The book is mysterious…in a way that entrances the reader. -Brette McWhorter Sember, Inscriptions-

~*~

A fascinating command of language and emotion imbues her characters with shimmering life. This short story collection is a treasure trove for the discriminating reader of paranormal and literary fiction. Spellbinding. -Rickey R. Mallory, Affaire de Coeur-

Romance Writing: Literary History & Commercial Categories

Julia Ann Charpentier

--------------------------------

The romance market is the most interesting and lucrative field in publishing today. New windows of opportunity have opened to talented writers with persistence and determination. Prolific authors who consider themselves storytellers, rather than literary greats with an inclination to change the world, often resent the analysis of a commercial endeavor. Romance novelists are entertainers. They write from the heart with inspiration and hope. Scholars who try to decipher their words usually fail. The message of the romance novel is not a complicated one. It is above all else a love story. Complications set in when a critic examines the various types of romance, its categories and sub-genres.

The literary criticism of romance has led to numerous scholarly books, some of which cast a gray sheen on the business through a dark filter. Just like an uplifting rose-colored glass, these negative distortions do not give an accurate picture of reality. Reality to the millions who enjoy romance novels is the pleasure derived from reading and the feeling of contentment that lingers afterwards. Reality to the published author is an advance and quarterly royalty statements. Accomplishment and creative achievement are deeper motives for pursuing this spectacular profession, a glamour job with awards and acclaim.

This book explores romance writing from its literary roots to its commercial categories today, a guide for aspiring beginners and established professionals.

Starlit Obsession

Julia Ann Charpentier

---------------------------------------

A night of love with a popular songwriter leaves Jade Ramone longing for a man out of reach. Eleven years later the memory of his touch haunts her dreams and stirs her fantasies. Cass Donovan is her sweet obsession, a lover who stole her virginity and romanticized her youth.

She returns with sophistication and a pen name to interview him for a music magazine. An evening of romance leads to his hotel room suite. Compelled by attraction neither can ignore, they renew their friendship in the quiet, discreet hours of the sultry Memphis night. In his arms she discovers insatiable passion.

Cass remembers the girl he loved and releases her with reluctance when ethics forces them to keep their relationship professional. Domineering parents and a broken marriage tarnished Jade's outlook, making her insecure. Cynical of the music business, Cass abandoned his career. Under the sobering influence of maturity can they find young love once again?

REVIEWS

Music. Innocence. True Confessions brought into the new millennium. This is a good, light romance that brings into play heavy issues. -Buzzy's Reviews-

Oscar Wilde's Love Song

Julia Ann Charpentier

Oscar Wilde's Love Song is a supernatural novella about Carina Angelo, an English literature professor who places a love letter on the grave of Oscar Wilde, then spends three days in Paris seduced by the writer's ghost in a haunting liaison. Based on the famous Irish legend, this story is a departure from typical portrayals in derivative fiction as it illuminates his passion for the opposite sex.

Devastated over the end of her marriage to an award-winning author, Carina travels to Europe for a recovery period. While visiting the Père La Chaise Cemetery, she lays a rose on Wilde's headstone. His spirit overwhelms her, distracting her from reality. He pulls her from the depths of depression into a dream world of pleasure. A psychic bond makes his character come alive, his energy tangible. She sees him, hears him, and touches him, but he's perceptible only to her. The foreign scent of a man's cologne surrounds her... mingling with the exotic taste of his lips. Carina feels the warmth of his kiss and the caress of his hands... his presence in her bed at night. His personality entwines with hers, bringing psychological freedom and peace. Acclimated to tough masculinity and gender separation, the sensual Wilde fulfills her like no other man. The reasons for her divorce are clear. She needs a gentle, sensitive companion.

As she draws him deeper into their paranormal union, Carina cannot live without him. The day before her scheduled departure she loses contact and fails to find him again. She waits for an answer that doesn't come. She walks the streets of Paris, searching for the love she can no longer feel. Despairing of seeing Wilde again, Carina returns to Chicago. Only through the mysticism of his poetry will she revive his soul, creating a spiritual pathway... an eternal bond.

REVIEWS

Seductive. OSCAR WILDE'S LOVE SONG by Julia Ann Charpentier is an experience in itself. Carina Angelo finds herself overwhelmed by the mesmerizing apparition of Oscar Wilde as haunting sensual nights leave her desperate for a love she can only find in her dreams. You'll be entranced as you read this evocative love story as Carina and Oscar discover a way to cross the dauntless barriers to gain a love eternal. -Kim's Reviews-

~*~

I believe any fan of poetry would like this tale. Not just fans of Wilde's either! If you find yourself often reading Poe, Frost, or others, you would dearly love this novella! -Detra Fitch, Huntress Book Reviews-

The Indigo Dream Catcher

Julia Ann Charpentier

The realm of the human mind is a labyrinth of unexplored passageways. In a visionary world of time travel, extrasensory perception and clairvoyance, where classical literature and commercial fiction meet, universal symbols merge with secret codes. This sacred place cannot be fathomed without honest passion and internal drive. The Indigo Dream Catcher is an unforgettable collection written for the reader who dares to look deeper than the mundane. These incredible romances surpass the ordinary and delve into the extraordinary experience of spiritual love.

Two essays on the development and marketing of women's fiction open this collection of four short stories and an unusual three-part novella.

Jack London: An American Writer (1876-1916)

A collection of seven critical essays, Jack London: An American Writer (1876-1916) reveals a complicated figure with a literary persona and a mass-market image. London rose from a working class background in Oakland, California, to prominence as one of the most famous and prolific authors in the world. Scholars have put him under a literary microscope since his death in 1916. Academics analyze his work, his political views, and his love life in an attempt to distinguish between the private man and the public figure, while modern writers find his creative output daunting.

Romeo

Julia Ann Charpentier

Veronica Swanson is a vivacious soccer investor from Madison, Wisconsin, who falls for Derek Fallon, a charismatic forward from Manchester, England. She signs him to the Madison Maelstrom, a losing team. Headstrong and stubborn, Derek solves her financial trouble in unorthodox ways, against the advice of Veronica and her attorney. He plays the game with fanatical zeal and stirs the growing crowd with lunacy. Soon every game is a sellout and his female admirers dub him "Romeo," pursuing him with the adolescent adoration of a rock star's band of groupies. The out-of-control situation escalates until Veronica and Derek must survive under the same roof in a relationship both comical and emotional as they ward off the fans and suffer tumultuous feelings as they fall in love.

Valentino: Icon of Romance

Julia Ann Charpentier

Women wept, yearned and fantasized about him.

Men coveted and copied his mysterious style. And both lined the railroad tracks when his body was transported back to the Tinsel Town that made him famous.

Based on over one hundred rare sources, this biography of actor Rudolph Valentino will thrill romantics and fans of silent film. Encased in a shroud of mystery is a fascinating individual concealed too long behind his persona.

REVIEWS

Charpentier sees in Valentino's appeal a precursor to the rise and enduring popularity of romance novels. Her introduction draws parallels between Valentino's oft-criticized persona and the perplexity expressed by romance novelists who sell millions of books but who are sneered at by critics. The common thread… is the mystery and mysticism of romance, which defies analysis. -Gregory Harris, The Book Page-

~*~

Screen idol Rudolph Valentino is presented… as a mysteriously erotic screen personality shortchanged by the studios and denied the chance to play the more serious roles he desired. Charpentier has written extensively about Valentino in romance and nostalgia periodicals…" -Publishers Weekly-

.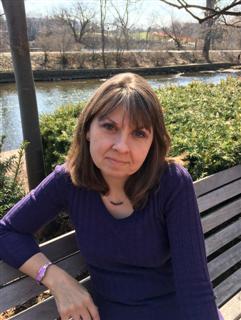 An exclusive interview with Julia Ann Charpentier
Where do you live?
A suburb of Chicago.
Where can fans write to you?
juliacharpentier@aol.com
What inspired your biography on Rudolph Valentino?
My admiration for the actor.
What was your "writer's" day like when working on this book?
I researched this bio-bibliography over the course of ten years. After publishing numerous articles, I realized I had learned enough about Valentino to write a book.
Tell us about your family.
They're distantly supportive.
Do you have any pets?
A black Bombay cat.
What do you enjoy doing in your leisure time?
Movies, music, long walks.
Who's your favorite author?
No favorites. I read the work of a lot of authors.
What's your favorite book?
No single book comes to mind.
What's your favorite movie?
"Jumanji" with Robin Williams (don't ask).
Where's your favorite place?
I love Southern California.
What place, that you haven't already visited, would you like to visit?
I'd like to see England and Australia.
What's your favorite kind of music?
I listen to soft rock.
© DiskUs Publishing