---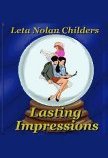 Download: $4.50
Gaze into my crystal ball...
When Michelle Stafford accidentally receives a letter requesting a meeting with Randall Forrester, she believes it is her destiny to use her psychic abilities to help people by writing a column for his newspaper. What she doesn't know is that the letter she received was intended for Typhoon Tiffany Smythe-Adams, a former high society madam who Randall hopes to lure to the newspaper as a love advice columnist.
From first meeting to last embrace, Michelle leads Randall on a merry chase tracking down the culprit of some very mysterious activities at his newspaper. While Michelle is unable to perceive her own destiny, Randall discovers that his destiny lies in casting his fate with hers. Though plagued by miscommunications, misunderstandings and Miss Typhoon Tiffany, the two discover that enduring love is based on mutual respect-even if that means he thinks she's a candidate for an asylum and she thinks nature compensated him for a lack of intelligence by making him extraordinarily handsome.

---

"LASTING IMPRESSIONS is a wild, sexy romp that will tickle your funny-bone and warm your heart."--Karen Wiesner, highly-praised author of RESTLESS AS RAIN.
~~*~~
"LASTING IMPRESSIONS will make you smile, laugh, and fall in love all over again. This is truly Romantic Comedy at its best. Leta Nolan Childers is a five star author." -Joyce McLaughlin, dedicated reader, author and editor of Inspirational and Children's Books
~~*~~
Full of humor and fun, Leta Nolan Childers' LASTING IMPRESSIONS tells the story of how Michelle-a psychic in need of a way to freely express her "gift" wins her own column, and the respect of logical newspaper owner- Randall Forrester. This book is "destined" to be a hot seller! Randall and Michelle really made an impression on me! Wow! --Tina Adams, HeartRealm
~~*~~
Right from Chapter One, I was captured. The hero and heroine were delightful and funny, yet the attraction between them sizzled! Randall is such a scoundral...with all the charm of Han Solo! And Michelle is feisty enough to stand toe-to-toe...or lip-to-lip...with him. It was so easy to cheer for them. And the secondary characters are zany and the kind of people I'd like to meet...even Typhoon! LASTING IMPRESSION was a fun read and you don't have to be a psychic to predict a bestseller here." Jackie Bielowicz aka Jackie Kramer BROKEN PLEDGE, HSWF 5/99 ISBN #1-58200-109-X
~~*~~
Leta Nolan Childers once again spins a Hilarious Romance you can't put down in Lasting Impressions. Clairvoyant, Michelle Stafford and Doubting Thomas, Randall Forrester literally fall all over themselves trying to avoid their destiny. Reviewed by Kim Gaona ~~ http://www.kimgaona.com
~~*~~
An Irish Lullaby takes the reader from laughter to tears, to joy. The characters are created many layers deep to allow the reader to peel each layer back and discover the secrets hidden inside. This reviewer wished less space had been granted to the elaborate joke and more time early on to the complexities of the characters. However, the book is still well worth reading.~~Copyright © 2000 by Lois Black for Sharpwriters http://www.sharpwriterreviews.8m.com/review27.html

© DiskUs Publishing