---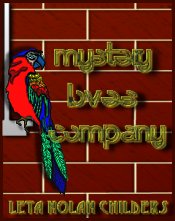 Download: $4.50
What's love got to do with it?
For Mystery McClain, love has everything to do with why she keeps helping Brent Stevens whenever he calls for her assistance in his job as an investigative reporter.
But then, as the daughter of two private investigators, Mystery's grown up in the world of shrewd deductions and gumshoe detecting. Though she's turned her back on her heritage, when Brent calls she can't help herself from helping him.
When Brent buys the newspaper they both work for, it seems as if he's finally realizing his life-long dream. Unfortunately, there are forces working against him-willing to take desperate and deadly means to stop him from keeping his deal.
He should be focusing on solving his dilemma, but Brent's beginning to see Mystery in a new and exciting light. She should just mind her own business, having decided that Brent will never see her as more than a friend, but then Mystery looks at him, hears his voice and her resolve flies out the window.


Mystery Loves Company by Leta Nolan Childers keeps you sitting on the edge of your seat waiting to discover who the fiendish criminal really is. Mystery and Brent, the owner of The Times, both decide to do some investigative reporting on their own. Only thing is, they wind up in the middle of a murdering blackmail scheme. Will they live to find love in one another's arms again or will they die at the hands of the nefarious criminal? Kim's Reviews~~Reviewed by Kim Gaona http://www.kimgaona.com

© DiskUs Publishing