---

Old Time Recipes
Mostly plain, sometimes garnished with sugars and spices, the pioneer fare was limited to what they could find available to use. Here are a few of the staple recipes of the pioneers.
Soda Bread
1 lb white flour
1 tsp salt
2 sp bicarbonate of soda
4 tsp cream of tartar
1 oz fat
9 fl oz milk
Preheat the oven to 425° F
Sift the flour, salt, soda, and cream of tartar into a bowl. Rub in the fat and add enough milk to make a soft dough. Knead for 1 minute, then shape into a ball and place on a greased baking tray. Mark with a cross, cutting almost to the bottom of the dough. Bake for 40-50 minutes till well risen, lightly browned and firm underneath.
Butter Cookies
Makes 5 dozen
2/3 cups butter softened
¼ cup sugar
2 eggs
3 cups flour
1 ½ teaspoons salt
1 teaspoons vanilla extract
2 teaspoons baking powder
Sugar, to sprinkle
Preheat oven to 350º
Cream butter, sugar, and eggs together in bowl until light and foamy. Sift flour, salt, and baking powder together into separate bowl; stir into egg mixture. Stir in vanilla; mix until smooth. Refrigerate for at least 1 hour. Roll chilled dough out to ¼ -inch thickness on lightly floured surface. Cut into desired shapes, sprinkle with sugar, and bake for 12 - 15 minutes.
Corn Bread
2 eggs
2 cups buttermilk
1 teaspoon baking soda
2 cups white cornmeal
1 teaspoon salt
Pre-heat oven to 450º. Generously grease a 9" square pan; heat in oven while mixing batter.
Beat eggs; add buttermilk. In bowl, stir together baking soda, cornmeal and salt. Add egg mixture all at once; beat with rotary beater or electric mixer until smooth. Pour into heated pan. Bake 20-25 minutes, or just until set. Serve hot, cut into squares, with butter.
Baked Beans
2 cups navy or pea beans
1 1/2 tsp salt
2 Tbsp brown sugar
1/4 cup molasses
1 bay leaf
1/2 tsp dry mustard
1 Tbsp chopped onion
1 cup boiling water
1/2 pound piece salt pork
Wash beans. Cover with water and soak overnight, or cover with boiling water and soak 4-5 hours. Drain, cover with a large amount of boiling salted water; boil slowly for 1 hour. Drain, combine salt, sugar, molasses, bay leaf, mustard, onion and water and add to beans. Pour into bean pot. Score rind of pork and press into beans, leaving the rind exposed. Cover beans with additional water, (boiling) and bake in 300 deg F oven for about four hours. Remove cover for last 1 1/2 hours cooking.
Molasses Candy
1 cup molasses
3 cups sugar
1/2 cup water
1 tsp cream of tarter
Mix sugar and cream of tarter together. Add molasses and water. Stir until sugar is dissolved. Boil without stirring until it hardens in cold water. Turn onto buttered pan: when cool, work and cut into sticks.
Head Cheese
20 lbs pork--heads, hearts, tongues, and if using beef, should be shanks and necks.
5 lbs beef
1 oz pepper
1/2 lb salt
1/4 oz Allspice
1/2 oz cloves
4 lbs meat stock
Put the meat in a large kettle and cover with water then simmer for 2 or 3 hours until the meat is very tender. The meat is then taken from the liquid and separated from the bones. Cut the meat into cubes. Add the seasonings and measure 4 lbs. of the liquid in which the meat was cooked (meat stock) and add this. Mix the whole thing thoroughly until the seasonings are worked into the meat. The meat is then put into hog paunches or beef straight and laid out to cool. They may be pressed by laying a weighted board over them. If you prefer you may place the headcheese in bowls or bread pans.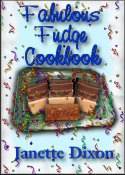 Order your favorite DiskUs Book here!

© All Rights Reserved DiskUs Publishing™