BUDGET CHRISTMAS PUDDING
Laraine Anne Barker
(Visit Laraine's website by clicking here)
(Suitable for those who need to limit their fat intake)
2 cups mixed fruit
8-9 prunes, chopped (use kitchen scissors)
1/4 cup sugar
2 tsp mixed spice and
1 tsp cinnamon (or spices to taste)
1 egg
1/4 cup brandy
1 cup plain flour
1/4 tsp (rounded) baking soda
1/2 tsp (rounded) cream of tartar (or 1 tsp baking powder)
3/4 cup boiling water
1 desertspoon (2 tsp) butter or margarine
1 tsp baking soda

Mix the first lot of ingredients thoroughly together then sift in the flour
and raising agent. Melt the butter or margarine in the boiling water, add
the baking soda, pour into fruit and flour mixture and mix well. Place in
greased pudding tin and steam as long as possible, 5 to 8 hours. The longer
the pudding is steamed the darker it will look and the richer it will seem.

The original of this recipe had no raising agent added with the flour, no
egg, no prunes and used only one cup of fruit and 1 tsp of spice. Instead of
the brandy, an extra 1/4 cup of boiling water was used.
CHRISTMAS MINCEMEAT
Laraine Anne Barker
(Visit Laraine's website by clicking here)
2 oz walnuts
1-1/2 lb currants
4 oz raisins
1 tsp each cinnamon, nutmeg and mixed spice
1 tsp salt
4 oz melted butter
1 cup grated apple
6 oz dried apricots
2-3 oz crystallised peel
1/2 cup sugar
1/2 cup sherry (or brandy)
Juice and grated rind of 1 lemon

Put walnuts, apricots, raisins and peel through mincer, with half of the currants, using a coarse knife. (I use a food processor, but these weren't around when this recipe was published). Add rest of ingredients and mix well. Leave the mixture in the bowl for several hours, stirring often, then pack in clean dry jars, cover and store in fridge. Makes about 3-1/2 lb mincemeat.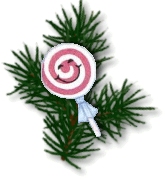 SWEET SHORT PASTRY
Laraine Anne Barker
(Visit Laraine's website by clicking here)
1 lb butter
8 oz sugar
1 egg
3 TB cold water
1-1/2 lb flour
1 tsp baking powder
In a large bowl soften butter and cream with sugar. Add egg and beat again. Add water and beat in. Sift flour and baking powder and blend into the creamed mixture. Depending on the day and the size of the egg, more or less flour will be needed, but enough is added when the dough forms a smooth ball. Divide it into four and wrap each piece for the freezer. When wanted, thaw and knead smooth before rolling. Makes just over 3 lb pastry which will roll thinly to make about 4 dozen good-sized lidded mince pies at Christmas.
SWEET POTATOE CASSEROLE
Robin Bayne
(Visit Robin's website by clicking here.)
3 c. boiled mashed yams
1 c. sugar
1 tsp. salt
3/4 tsp. nutmeg
1 tsp. cinnamon
2/3 tsp. allspice
2/3 tsp. vanilla
2 eggs, beaten
1/2 stick butter
3/4 c. milk
Mix potatoes, sugar, salt, butter, milk, spices and eggs in order given. Add vanilla. Mix and pour into 2 quart casserole.
Topping:
Combine 1/3 c. flour
1/3 stick butter
1 cup chopped pecans
Mix with fork until crumbly.Top potatoes, bake 350 degress for 35 minutes.