---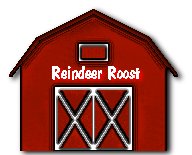 Welcome to the Reindeer Roost!
It's a little known fact that while the elves are busy building toys, Mrs. Claus is busy cooking and Santa is busy checking his list and supervising that it's the reindeer who are the ones busily decorating the entire North Pole for Christmas.
So, Rudolph and his buddies decided to take a break from playing reindeer games to share a few suggestions and instructions about decorating for Christmas.
Amaryllis, Paper flowers, narcissis...even picking a real tree out at the lot or tree farm...The reindeers are pros. Click here for some suggestions.
The reindeer make sure that every little nook and cranny of the North Pole is as festive as can be...Click here for some of their suggestions.
Do you know just how tough it is to use a glue gun with hooves? Well, the reindeer have perfected it, creating lovely homemade ornaments. They share a few with you.
And when they aren't busy decorating or playing games, the reindeer love a good book to read...like these from DiskUs Publishing...
Order your favorite DiskUs Book here!

© All Rights Reserved DiskUs Publishing™