---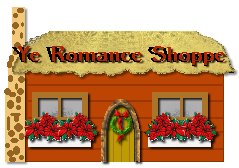 Welcome to Ye Olde Romance Shoppe
There's no better time than Christmas to remember the love we share with those we hold dear.
Yet, in the busy, busy days heading up to the holidays, we can sometimes forget to take the time to show our loved ones just how much we care. So, this is devoted to the lovers of the world and is filled with a few hints to enhance the romance of Christmas.
Casting a Romantic Christmas Spell
And...while you're in the mood for a great romance...check out these from DiskUs Publishing...
(Click on the cover to check them out.)
Order your favorite DiskUs Book here!

© All Rights Reserved DiskUs Publishing™