---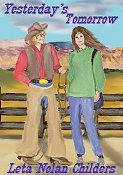 Download Add to Cart $4.50
When the deputy sheriff kicked her out of the Fort Pierre dive, Lacey Beaumont realized she was on a one-way trip to nowhere. Still, with nothing better to do, she accepts a ride from a three-sheets-to-the-wind cowboy with amorous intentions. The ride takes her farther than she ever imagined...to another time entirely.
The last thing that Luke McKenzie needs is to find a muddy, rebellious waif lying on the banks of the river near his home. Luke needs to focus on figuring out just who's trying to drive him away by ruining his ranch and stage station. Yet, he finds himself focusing on the unusually stranger with an unbelieveable story.
Together, Lacey and Luke discover that love and commitment can overcome anything...even time and space.


In "Yesterday's Tomorrow" Leta Nolan Childers waltzes her spunky, sympathetic heroine, Lacey Beaumont, through time as easily as most people walk from room to room in a familiar house. The transition was smooth and believable, the tale totally gripping. Don't try to read this book a chapter at a time--there's just no safe place to stop reading, with surprises at every turn, from its first page right through to the fantastic surprise ending. And I don't know a woman out there who wouldn't travel back in time to find such a strong, masculine, sensitive, caring, stubborn, loving, giving, sharing, good-looking (you get the picture) hero as Luke McKenzie. This book deserves top honors; I highly recommend it! Tracy Jones - author of "Dare to Dream" and "Night Tales" http://www.scican.net/~ptjones/bio.html
*** More action and adventure than in most other Time Travel Romances! This one will keep its readers' eyes "super glued" to the story! Don't pass this one up! *** Huntress Reviews
~~*~~
YESTERDAY'S TOMORROW is a touching love story that sweeps you on a poignant journey from the present to 1878 and back again to prove that "with love...all things are possible". Another fabulous tale of tenderness from Leta Nolan Childers. HeartRealm Recommends!--Tina Adams, HeartRealm Reviewer www.heartrealm.com>
~~*~~
Lacey Beaumont and Luke McKenzie are destined for each other, though they were born more than a hundred years apart. But will fate--and Luke's vengeful brother, Douglas--keep them apart?
You'll laugh, you'll cry and you'll revel in this time-travel romance by Leta Nolan Childers. Lacey and Luke's love story, and their struggles to be together against all odds, will touch your heart and warm your soul.~~Elizabeth Delisi, author of "Since All is Passing," Avid Press, Oct. 1999
~~*~~
'Yesterday's Tomorrow', a romantic time travel by Leta Nolan Childers, is a masterfully told story about the power of love.
Lacy Beaumont, an independent young woman who supports herself with a deck of cards takes the gamble of her life one rainy night when she accepts a ride from a stranger.
Ms. Childers weaves a wonderful tale of two souls as different as a hundred years can make them. Through it all; the dust, the smoking cook stove, the burnt biscuits, the Cavalry, a deranged villain, and a hundred years of differences, Luke and Lacy prove that love truly can conquer all.
I laughed, I wept, I cheered. 'Yesterday's Tomorrow' is at the very top of my favorite's list.
Mary Adair, author of PASSION'S VISION, Awe-struck e-books