---
Pat Snellgrove (aka Ann Patrick)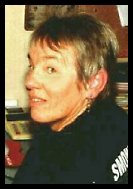 I live Drummond, Southland, New Zealand with my husband of 32 years. I have two children, a boy and a girl, both married and have two adorable time-wasting grandsons.
I have been writing since high school, but only seriously for about the last ten years. Have suffered like everyone through rejections.
I am Vice President of Romance Writers of NZ, and a member of Romance Writers of Australia, EPIC and the World Romance Writers Assn.
I love motor racing and take an active part in the administration side at race and rally meetings. My husband is General Manager for MotorSport NZ and because of this we travel around New Zealand a lot.
In November we moved from Paraparaumu in the North Island of NZ to Drummond, which is in the very south of the South Island of NZ. This for us has been a complete change of lifestyle. We now live in a small town of approx 150 people and have land to look after. Our nearest shops are 18 km away and our nearest town is 40 km away.
I spend as much time as I can writing, but unfortunately can not spend every day doing my favorite pastime.
My hobbies are gardening, patchwork, reading (of course), travel, knitting and cooking.
My first book, "The Wandering Minstrel" was published by New Concepts Publishing in September 1999 and my second "Model in Flight " was released in May 2000. This book was also a nominee for the Frankfurt awards in 2000 and is currently a nominee for the EPIC awards for 2001.
My third book is due out this month and I am continuing to work on my fourth and fifth books.
I had the privilege of being asked to do an article for an anthology which came out on the 1 May 2000, called Millennial Milestones - A Celebration of Change. This was to raise funds for Diabetes.
I have also done an article for another anthology - at this time called Crumbs in my Keyboard - which is to raise funds for a Women's Shelter. It is a humorous look at how you coped with writing while been a wife and mother.
E-publishing is a new medium and I am thrilled to be in on the ground floor with this new technology.
I have done several talks on e-publishing at our conference in Auckland, and at several service and writers groups. Last year I did a workshop on the same subject. I believe epublishing is the publishing medium of the future and want to do my bit to make this happen.
I am dedicated to my craft of writing and want to do well at it, be it in print or e-publishing.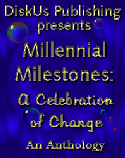 Download Add to Cart $4.50
© DiskUs Publishing