---

2005 Recipes
FESTIVE SWEET POTATOES IN ORANGE SHELLS

Recipe by Betty Jo Schuler

3 lb. sweet potatoes, cooked and mashed

(about 6 C.)

2 eggs

¾ C. brown sugar

½ C. melted butter

½ tsp. cinnamon

1 tsp. salt

1 C pecans, finely ground

Fresh orange juice (up to 1 C.)

8 large orange shells

Miniature marshmallows

Combine first 7 ingredients, beating well. Add orange juice until the mixture is desired consistency. Fill orange shells with sweet potato mixture and refrigerate until ready to use.

Bake at 375 degrees for 20 minutes or until heated through. Place marshmallows on top and place under broiler until nicely browned. Serves 8.

Betty Jo Schuler

CHRISTMAS CHERRY CAKE

By Cia Leah

1 yellow cake mix-make and bake according to package directions

2 cans cherry pie filling

1 large container of cool whip

When cake is cool, top with the cherry pie filling, then ice with cool whip.

Put in fridge until ready to cut.
Crown Roast of Pork

By Beth Atkins

Place roast with rib bones up on rack in shallow pan. Sprinkle with salt and pepper.

Cover with aluminum foil, and roast in a slow oven (325F), 30 minutes per pound or until meat thermometer registers 185.

About 45 minutes before roast is done, remove foil and fill loosely with stuffing. Garnish with crab apples on bed of parsley.

Corn bread stuffing

4 cups crumbled corn bread (about 8 muffins)

1/2 t thyme

1/4 cup chopped onion

1/4 cup chopped green pepper

1/2 cup butter

2 cups whole kernel corn

2 T chopped pimento

Saute onion and green pepper in butter

Combine with other ingredients

Gravy

Drain drippings from roasting pan, and remove fat. Measure 3 T of drippings, add 3 T flour, and cook, stirring until bubbly. Remove from heat.

Add the water to remaining drippings to yields 1-1/2 cup volume.

Stir flour mixture into fat in pan, then stir until thickened. Season to taste.

Visit Beth Atkins Author Page by clicking here

Eggnog Muffins

by Melinda Zimmerman

3 cups flour

1 tablespoons baking powder

1/2 cup sugar

1 teaspoon ground nutmeg

1/2 teaspoon ground cinnamon

2 large eggs

1 cup milk

1/2 cup melted butter, margarine or oil

2 teaspoons rum or rum extract

1 tablespoon sugar

1/2 teaspoon ground nutmeg

1/4 teaspoon ground cinnamon

In a large bowl, mix flour, baking power, sugar, nutmeg and cinnamon. In a nother medium, whisk eggs, milk, oil and rum. Pour liquid ingredients over the dry ingredients, stir just until mixed. Spoon batter evenly into 12 greased, 2 1/2 inch muffin cups.

In a small bowl, combine sugar, nutmeg and cinnamon. Sprinkle evenly over tops of muffins. Bake in a 400F oven for 20 minutes or until golden.

Orange Pecan Cookies Recipe

By Anne Polk

3 C. sifted flour

2 t. baking powder

1/2 t. soda

1/2 t. salt

1/2 C. sugar

1 C. brown sugar, packed

2 eggs

1 T. grated orange rind

1/2 C. sour cream

3/4 C. butter

1 C. chopped pecans

Pecan halves for garnish (about 8 ounces)

Frosting:

2 C. sifted powdered sugar

1 t. grated orange rind

1/8 t. salt

3 T. orange juice

Sift together flour, baking powder, 
baking soda, and salt. 
Cream the butter, then 
gradually add the sugar 
and brown sugar, creaming 
them well. Add the eggs and 
orange rind; beat well. 
Stir in sour cream, then 
blend in the dry ingredients. 
Stir in chopped pecans. 

Drop by rounded teaspoonfuls on 
greased baking sheet. 
Bake at 375° F on the 
middle shelf of oven 
for 8 to 10 minutes. 

To make the frosting, 
whisk together ingredients 
until they reach a 
onsistency suitable for 
spreading on the cookies. 
Frost cookies while still 
warm and garnish each 
with a pecan half. 



Visit Anne's Author page 
by clicking here




Cold Fondue

Janet Lane Walters

Ingredients
 
I package cream cheese 
(at room temperature) 
heavy cream
half and half
Sugar to taste
Chocolate syrup
white chocolate to be melted
Cinnamon, nutmeg or other
spices can be used. 
Slices of fruit
 - apples, pears, peaches, 
strawberries, melon -- 
whatever turns you on.

 In a mixing bowl put the 
room temperature cream cheese, 
add half and half enough 
to make the mixture smooth. 
Add a half cup heavy cream 
and mix.  I generally divide 
the mixture into two bowls.  
To one I add the white 
chocolate and sugar to taste.  
If it seems too thick for 
dipping the fruit, 
add a little more half and half.  
To the other bowl, 
I add chocolate syrup 
until I decide I like the color, 
sweeten it with a bit of 
sugar and as before if 
it's too thick add a bit 
more half and half.  
Then I refrigerate until 
it's time to serve.  

Janet Lane Walters


Visit Janet's author page by
clicking here

























THE REAL ME, DiskUs Publishing, Young Adult category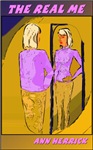 Trying to diet while tracking down recipes for the prom because you're the
refreshment chairperson is a difficult task. But it looks as if Mattie
Mason will succeed due to the inspiration she receives from three boys:
Walt, her friend; George, her tormentor; and Kevin, her dream guy.
Food-Related EXCERPT:
I'm going to make this diet work. And I'm not going to my own prom alone, either. Once I'm thin, boys will notice me. I know they will…
"And now for dessert," Dad announced. He pulled a bowl out of the refrigerator and spooned a white fluffy substance into the dessert dishes.
"What is it?" I asked. It looked like soap suds. "I, ah, might not have time to eat it."
"It's called Frozen Fluff. I invented it myself. You'll love it."
"Hmmm."
"It's amazing what a person can do with just some gelatin, skim milk, lemon juice, and vanilla extract." Dad smiled proudly.
I tasted a spoonful. It bubbled on my tongue, but I managed an encouraging smile.
A car horn sounded in the driveway. "That's Erwina. I'll be home right after the game." I stuck my dishes in the dishwasher, grabbed my coat and purse, and ran out to meet Erwina.
BOOK-RELATED RECIPE
...You won't need to run away from this version of:
FROZEN FLUFF
¾ teaspoon unflavored gelatin
1 ½ teaspoon cold water
Sugar
Pinch salt
¼ cup skim milk
2 tablespoons cold water
2 tablespoons instant non-fat dry milk
½ teaspoon vanilla extract
¾ teaspoon lemon juice
Soften gelatin in 1 ½ teaspoon water. Dissolve over hot water. Add one
tablespoon sugar, salt, milk, until dissolved. Chill until thick as
unbeaten egg whites. Meanwhile, on 2 tablespoons water in medium-sized
bowl, sprinkle non-fat dry milk. Beat until mixture holds high peaks.
Gradually beat in 1 tablespoon sugar. Add vanilla, lemon juice, and gelatin
mixture. Continue beating until mixture is stiff enough
Visit my web site: http://ann.herrick.home.att.net
Also Visit Ann's Author page at DiskUs by clicking here.
© DiskUs Publishing